There is nothing better than chocolate on chocolate. These Vegan Chocolate Fudge Cupcakes are no exception. Moist little cakes topped with rich, fudgy frosting, these babies will have you singing in the shower in no time. To summarize, chocolate equals joy. I don't make the rules. Let's learn how to make them!
This post may contain affiliate links. Read my full disclosure here.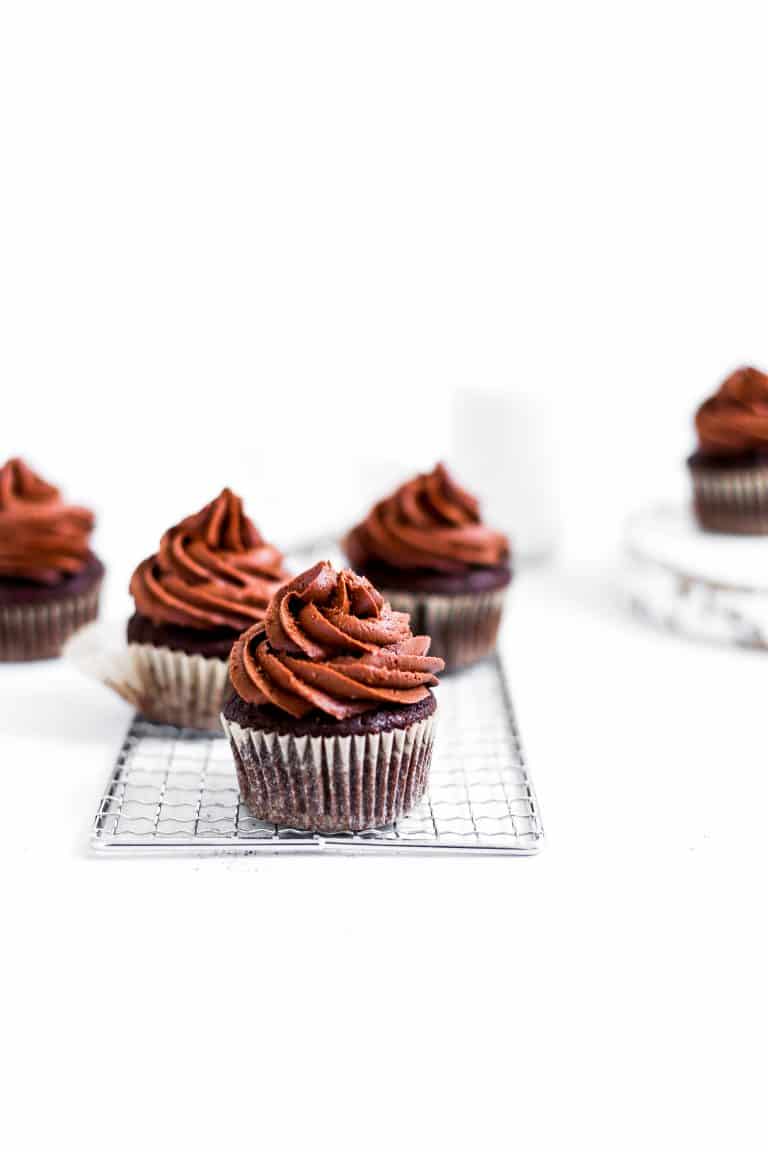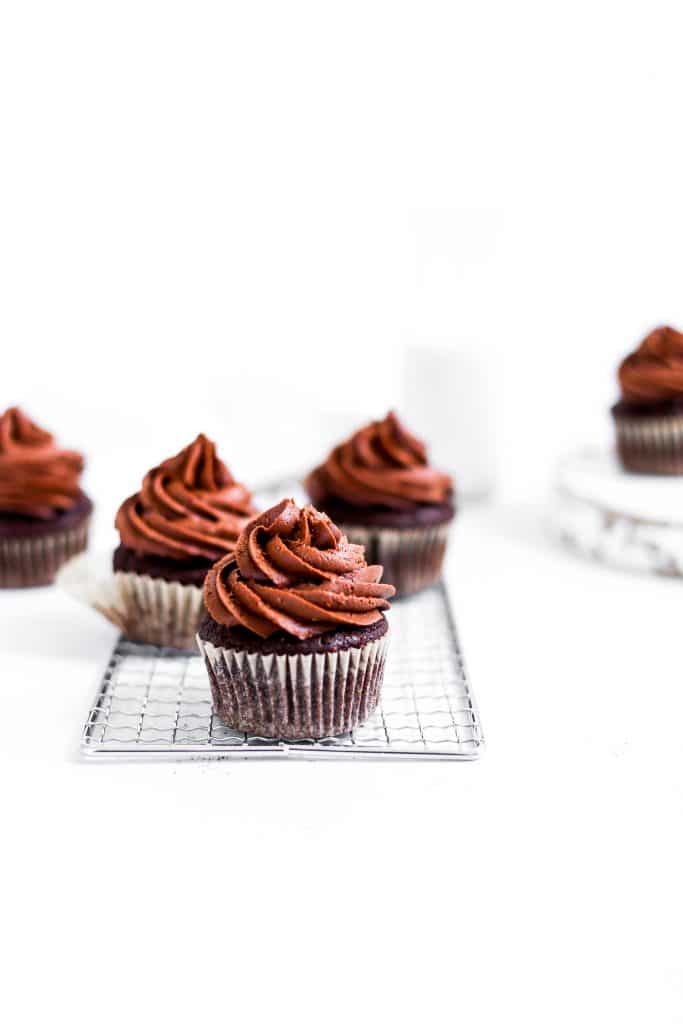 Ingredients for Vegan Chocolate Fudge Cupcakes
All of the ingredients needed in this recipe are readily available and easy to find. They are also inexpensive and the majority are household staples. Here is your grocery list:
Dry Ingredients
All-purpose flour: All-purpose flour is a versatile ingredient that serves as the base for the cupcake batter. It also provides structure and stability to the cupcakes, ensuring they rise properly and have a desirable texture.
Sugar: Sugar adds sweetness to the cupcakes and helps to balance the bitterness of cocoa powder. It also plays a role in moistness and tenderness, contributing to the overall texture of the cupcakes.
Cocoa Powder: Cocoa powder is responsible for the rich chocolate flavor in the cupcakes. It also gives the cupcakes their deep, decadent taste and dark color. Make sure to use unsweetened cocoa powder in a vegan recipe to avoid any dairy-based additives.
Instant Espresso Powder: Instant espresso powder enhances the chocolate flavor in the cupcakes by adding a subtle hint of coffee. It complements the cocoa powder and intensifies the overall taste.
Baking Powder: Baking powder is a leavening agent that helps the cupcakes rise and become light and fluffy. It also reacts with the other ingredients to create air bubbles, resulting in a tender texture.
Baking Soda: Baking soda is another leavening agent that works in combination with the acid in the recipe, such as the yogurt or cocoa powder. It helps the cupcakes rise by producing carbon dioxide gas, which creates a light and airy texture.
Sea Salt: Sea salt enhances the flavors in the cupcakes, bringing out the richness of the chocolate. It helps to balance the sweetness and adds depth to the overall taste.
Wet Ingredients
Nondairy Yogurt: Nondairy yogurt serves as a replacement for eggs and adds moisture and tenderness to the cupcakes. It also contributes to the structure and helps bind the other ingredients together. Plain and unsweetened works best.
Nondairy Milk: Non-dairy milk, such as almond, soy, or oat milk, provides the necessary liquid component in the cupcake batter. It helps create a smooth and pourable consistency while maintaining the moisture level in the cupcakes.
Canola Oil: Canola oil acts as a fat source in the cupcakes, contributing to their moistness and richness. It also helps to keep the cupcakes tender and prevents them from becoming dry.
Vanilla Extract: Vanilla extract adds a warm and aromatic flavor to the cupcakes. It enhances the overall taste and balances the sweetness of the other ingredients.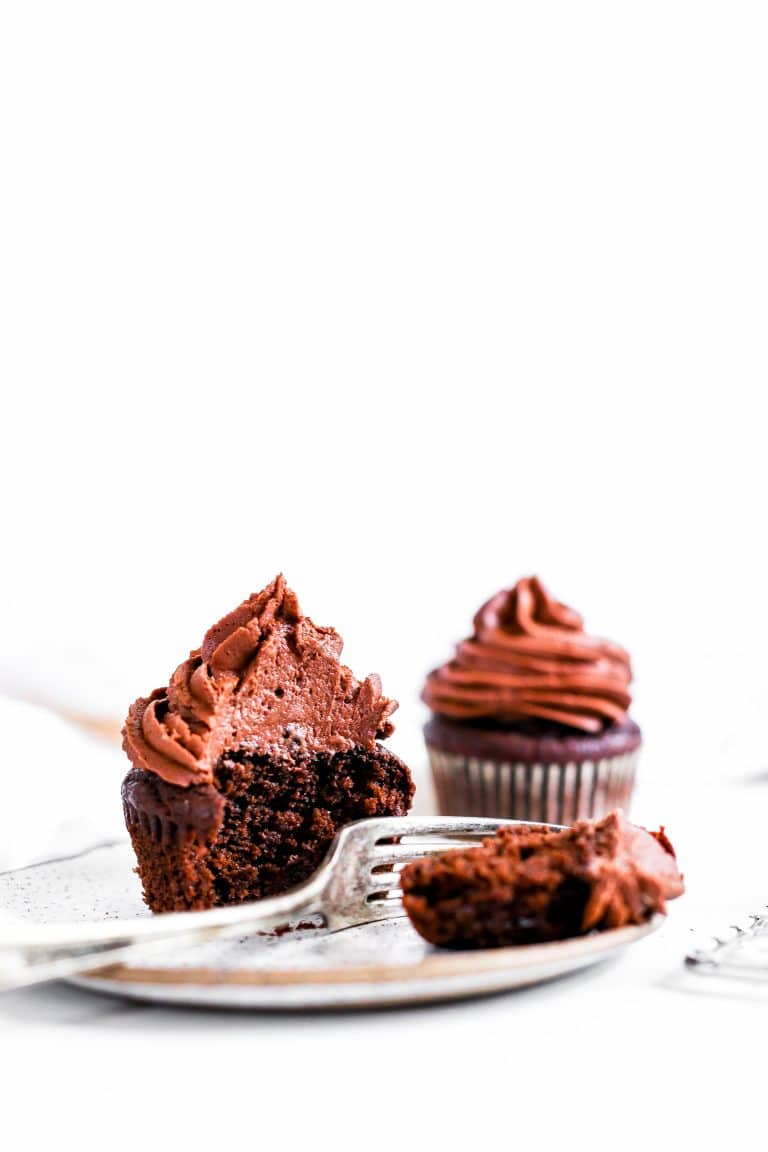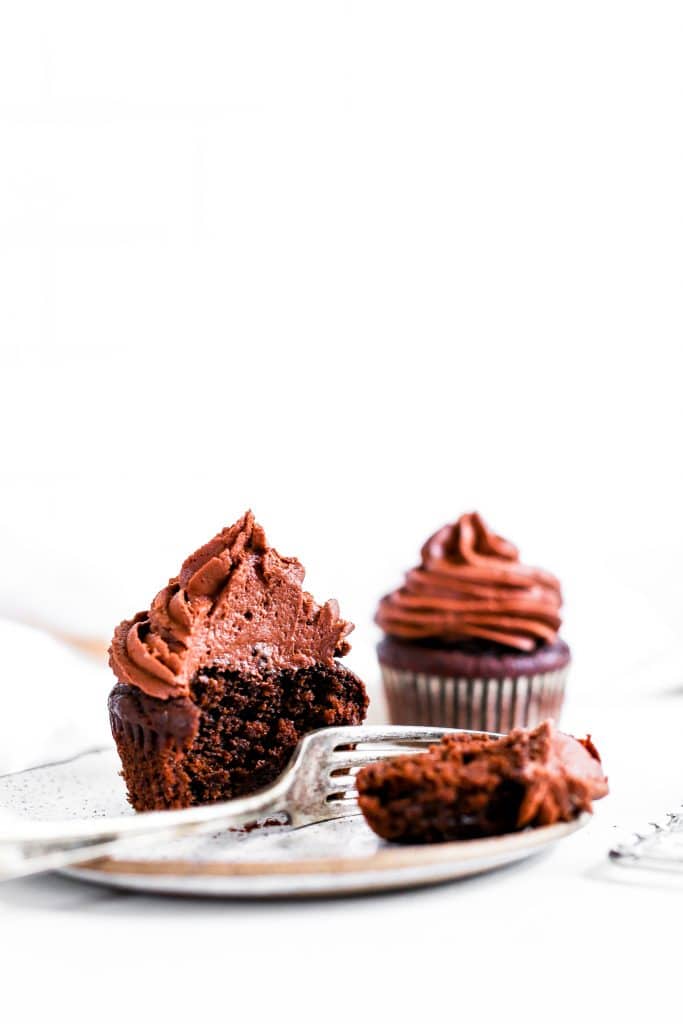 Ingredients for Vegan Chocolate Frosting
Non-hydrogenated Shortening: Non-hydrogenated vegetable shortening is used in the chocolate frosting to provide a stable and creamy texture. It also helps to bind the ingredients together and creates a smooth and spreadable consistency.
Vegan Butter: Softened vegan butter adds richness and flavor to the frosting. It contributes to the smoothness and creaminess of the texture, giving the frosting a luscious mouthfeel.
Powdered Sugar: Powdered sugar is the main sweetener in the frosting. It dissolves easily and helps to achieve a smooth and velvety consistency. Sifting the powdered sugar also ensures there are no lumps in the frosting.
Cocoa Powder: Sifted cocoa powder adds a deep chocolate flavor and color to the frosting. It complements the chocolate cupcakes and creates a visually appealing contrast.
Salt: Salt is used in the frosting to balance the sweetness. It adds a subtle savory element and prevents the frosting from being overly sweet.
Nondairy Milk: Nondairy milk is added to the frosting to achieve the desired consistency. It helps to make the frosting creamy and spreadable while adjusting the thickness as needed.
Vanilla Extract: Vanilla extract in the frosting enhances the overall flavor profile and adds a hint of warmth. It complements the chocolate and creates a well-rounded taste.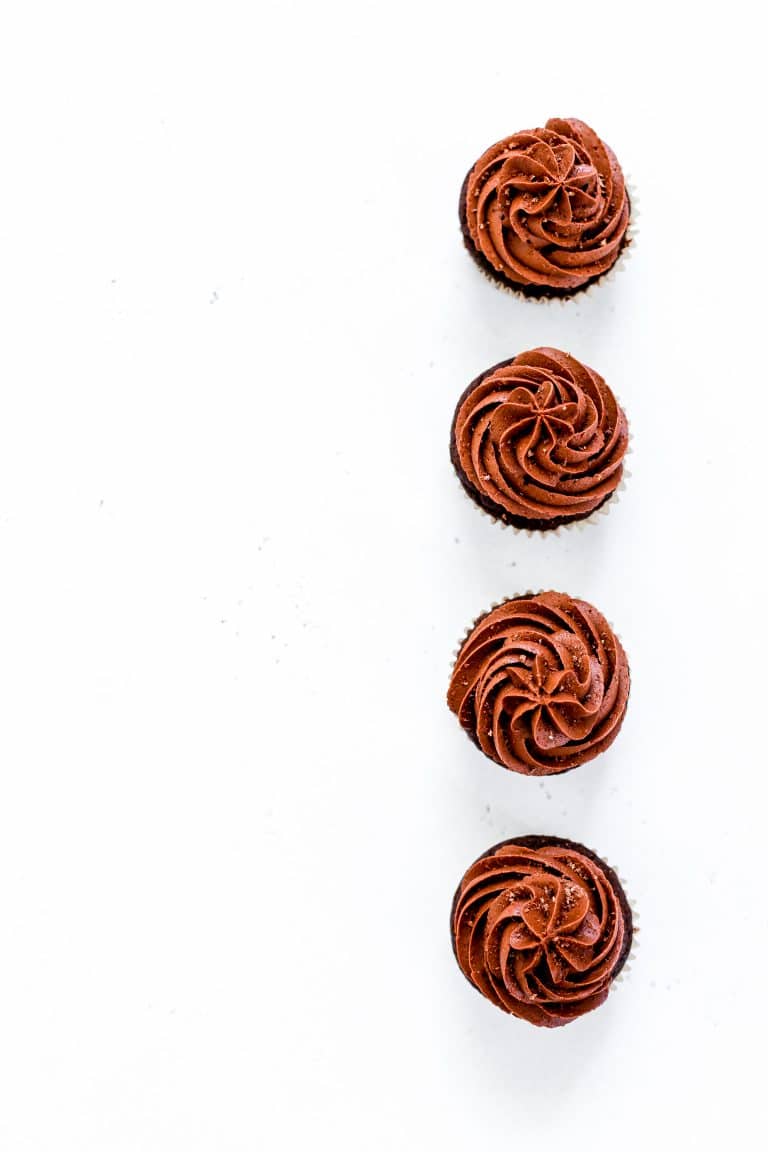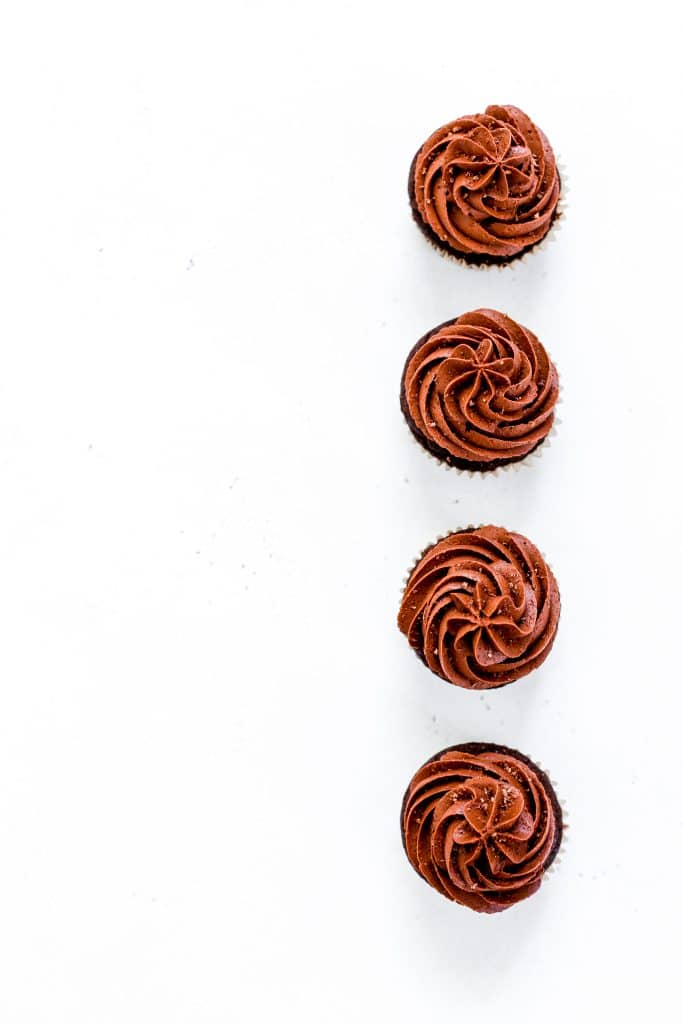 Steps for Making Vegan Chocolate Fudge Cupcakes
Start by whisking together the dry ingredients and wet ingredients separately. Pour wet ingredients into dry and mix together until just combined. Do not over-mix!
Line a cupcake pan with paper liners and fill each liner 3/4 of the way full with batter. Bake on center rack of preheated oven. Allow cupcakes to cool in the pan for about 5 minutes before transferring to a wire rack to cool completely.
While cupcakes are cooling, make the frosting! Beat together the frosting ingredients with an electric hand mixer or stand mixer until the frosting comes together. Pipe or spread frosting onto completely cooled cupcakes.
Tips for Making Vegan Chocolate Fudge Cupcakes
Here are some tips to help you make delicious vegan chocolate fudge cupcakes:
Choose quality ingredients: Opt for high-quality cocoa powder, non-dairy milk, and vegan butter or margarine. Using good ingredients will greatly enhance the flavor and texture of your cupcakes.
Properly measure your ingredients: Use measuring cups and spoons to ensure accurate measurements. Baking is a precise science, and even small variations in ingredient amounts can affect the final outcome.
Sift dry ingredients: Sifting the dry ingredients, such as flour, cocoa powder, and powdered sugar, helps remove lumps and creates a smoother batter or frosting. This step is especially important for cocoa powder to avoid any clumps in the cupcakes.
Don't over-mix the batter: When combining the wet and dry ingredients, mix until just combined. Over-mixing can lead to dense and tough cupcakes. Mix until there are no dry pockets of flour, but avoid excessive stirring.
Preheat the oven correctly: Ensure that your oven is preheated to the correct temperature. This will be specified in the recipe. Proper oven temperature is crucial for even baking and achieving the desired texture. use an oven thermometer if necessary.
Don't over-bake: Keep a close eye on your cupcakes while baking and test for doneness using a toothpick or cake tester. Insert it into the center of a cupcake. If it comes out with a few moist crumbs clinging to it, the cupcakes are done. Over-baking can result in dry and crumbly cupcakes.
Allow cupcakes to cool before frosting: Let your cupcakes cool completely before applying frosting. If you frost them while still warm, the frosting may melt or slide off.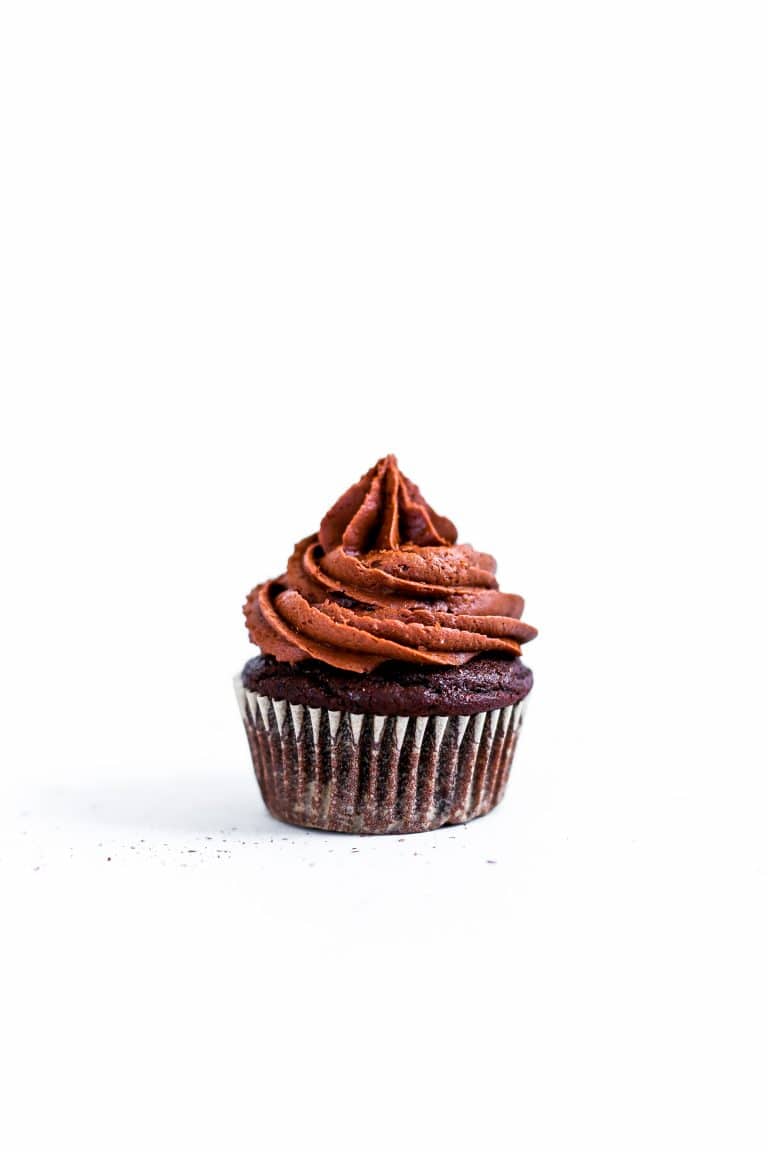 Frequently Asked Questions
What is the difference between a vegan cupcake and a regular cupcake?
The main difference between a vegan cupcake and a regular cupcake lies in the ingredients used. A vegan cupcake is made without any animal-derived ingredients, while a regular cupcake typically contains ingredients like eggs, dairy milk, and butter.
Eggs: In regular cupcakes, eggs serve as a binding agent, provide structure, and contribute to moisture. In vegan cupcakes, eggs are replaced with alternatives like mashed bananas, applesauce, flaxseed meal mixed with water (known as a flax egg), or non-dairy yogurt.
Dairy milk: Regular cupcakes often contain dairy milk, which adds moisture and richness. Vegan cupcakes use non-dairy milk options like almond milk, soy milk, oat milk, or coconut milk as a substitute.
Butter: Traditional cupcakes use butter to add flavor and moisture. In vegan recipes, butter is replaced with non-hydrogenated vegetable margarine or oils like canola oil or coconut oil.
By making these substitutions, vegan cupcakes can be just as delicious and moist as their non-vegan counterparts. However, it's worth noting that some adjustments may be necessary to achieve the desired texture and taste. Vegan baking often requires a balance of moisture, leavening agents, and binding ingredients to create the perfect cupcake.
Why are my cupcakes sinking?
If your vegan cupcakes are sinking in the middle, it can be attributed to a few factors:
Insufficient leavening agents: In vegan baking it's important to ensure the right amount of leavening agents is used. Baking powder and baking soda are commonly used in vegan recipes. Additionally, if you use too little or expired leavening agents, the cupcakes may not rise adequately, resulting in sinking.
Over-mixing the batter: Over-mixing the batter can lead to the development of too much gluten, causing the cupcakes to sink in the middle. Gluten forms when flour combines with liquid and is essential for structure, but too much gluten development can make the cupcakes heavy and dense. Mix the ingredients until just combined to avoid over-mixing.
Incorrect oven temperature: If the oven temperature is too low, the cupcakes may not set properly and collapse in the middle. Conversely, if the oven temperature is too high, the outer edges may set too quickly, while the center remains undercooked and sinks.
Opening the oven door too early: Opening the oven door too early in the baking process can cause a sudden drop in temperature, affecting the cupcakes' rise and structure. It's crucial to avoid opening the oven door until the cupcakes are almost fully baked.
Overfilling the cupcake liners: If you overfill the cupcake liners with batter, the cupcakes may become too heavy and sink in the middle. Follow the recommended amount of batter specified in the recipe, typically filling the liners about two-thirds full.
Under-baking: Removing the cupcakes from the oven before they are fully baked can cause them to sink as they cool. Ensure that the cupcakes are baked until a toothpick or cake tester inserted into the center comes out clean or with a few moist crumbs attached.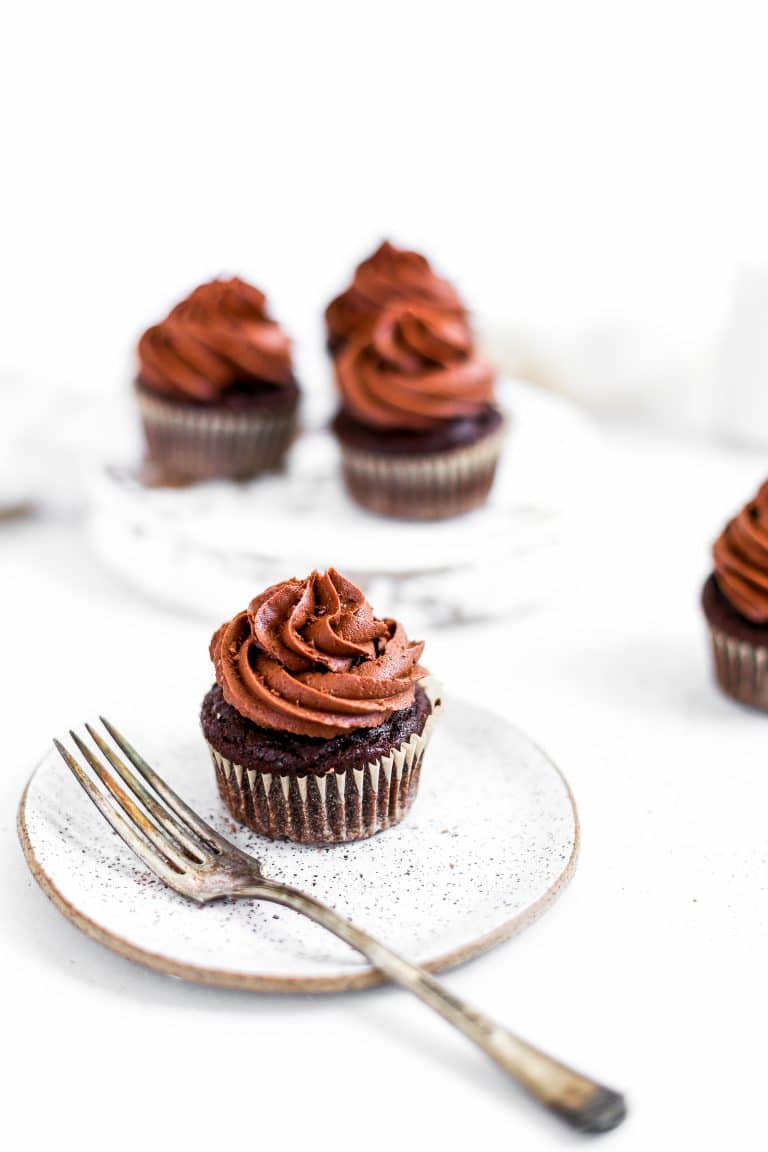 FAQ's Continued
Why are my cupcakes dry?
There are several reasons why your cupcakes may turn out dry:
Over-baking: One of the most common causes of dry cupcakes is over-baking. If you leave the cupcakes in the oven for too long, they can become dry and crumbly. It's also important to follow the baking time specified in the recipe and check for doneness using a toothpick or cake tester.
Incorrect measurements: Baking is a precise science, and using incorrect measurements can throw off the balance of ingredients, resulting in dry cupcakes. Henceforth, ensure that you accurately measure your ingredients using measuring cups and spoons. Too much flour or too little liquid can lead to dryness.
Too much flour: Adding too much flour to the batter can make it thick and dry. Make sure to measure the flour accurately by lightly spooning it into the measuring cup and leveling it off. Also avoid packing the flour into the cup.
Lack of moisture: Moisture is crucial in keeping cupcakes tender and moist. If your recipe doesn't include enough moisture-rich ingredients like oil, vegan butter, nondairy yogurt, or mashed fruits, it can result in dry cupcakes. Consider adding additional moistening ingredients or adjusting the ratios in the recipe.
High oven temperature: Baking cupcakes at too high a temperature can cause them to dry out quickly. Set to the proper temperature as mentioned in the recipe. You can also use an oven thermometer if necessary.
By identifying the possible causes of dryness and making adjustments in ingredients, measurements, baking time, and storage, you can improve the moisture and texture of your cupcakes.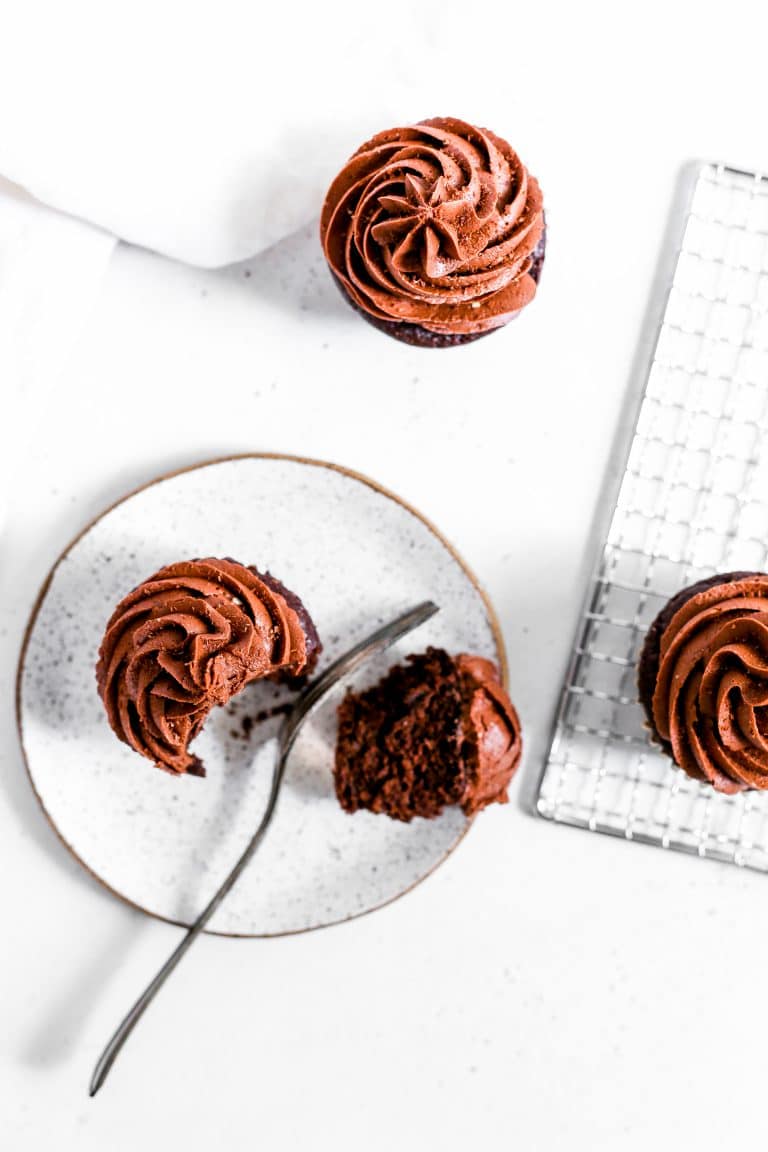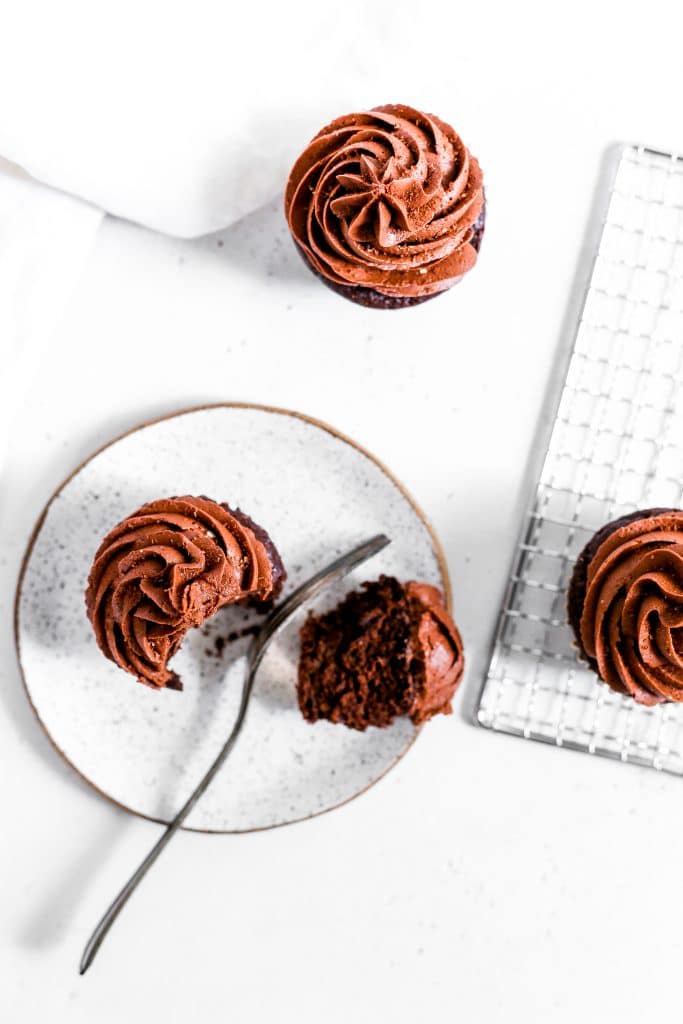 How to Serve/Store Vegan Chocolate Fudge Cupcakes
Serving vegan chocolate fudge cupcakes can be a delightful experience. Here are some ideas for presenting and enjoying them:
Garnish with toppings: Consider adding some toppings to enhance the visual appeal and flavor of your cupcakes. Sprinkle vegan chocolate shavings, crushed nuts (such as almonds, walnuts, or pecans), or a dusting of cocoa powder on top. To add a pop of color use fresh berries or edible flowers.
Display on a serving platter: Arrange the cupcakes on a beautiful serving platter or cake stand. This additionally allows your guests to easily pick their favorite cupcakes and adds an elegant touch to the presentation.
Pair with vegan ice cream: To create a decadent dessert, serve the cupcakes alongside a scoop of vegan ice cream. The combination of warm, fudgy cupcakes with cold, creamy ice cream is sure to be a crowd-pleaser.
Add sauces or syrups: Drizzle some vegan chocolate sauce, caramel sauce, or fruit coulis over the cupcakes for an extra layer of flavor and visual appeal.
Serve with hot beverages: Vegan chocolate fudge cupcakes pair well with hot beverages like coffee, tea, or hot chocolate. Offer a selection of drinks to cater to different preferences.
Individual decorations: Personalize each cupcake by adding decorative touches. You can also use vegan-friendly sprinkles, edible glitter, or small fondant decorations to make them visually appealing and unique.
Storing
Before storing the cupcakes, make sure they have cooled down completely. In general, placing warm cupcakes in storage can create condensation, leading to a loss of moisture and potentially soggy cupcakes. Place the cupcakes in an airtight container to protect them from drying out and to maintain their freshness. Store cupcakes at room temperature being sure to keep them away from direct sunlight, as it can cause the frosting to melt or fade in color.
Vegan cupcakes are typically best consumed within 2-3 days of baking for optimal freshness and flavor. In addition, if you want to store the cupcakes for an extended period, you can freeze them unfrosted. Wrap each cupcake individually in plastic wrap or place them in a freezer-safe container or zip-top bag. Frozen cupcakes can be stored for up to a month. Thaw them at room temperature before serving.
Please remember if you make this recipe to snap a pic and share with @censoredbaker on instagram!
Print
Vegan Chocolate Fudge Cupcakes
Need to fuel your chocolate addiction? These Vegan Chocolate Fudge Cupcakes are loaded with enough rich chocolate flavor to cover your cravings for weeks to come. They are also guaranteed to impress vegans and non-vegans alike.
Author: Lyndsey
Prep Time:

15 minutes

Cook Time:

20

Total Time:

1 hour

Yield:

14

cupcakes

1

x
Category:

Cakes and Cupcakes

Method:

Bake

Cuisine:

American

Diet:

Vegan
For the Cupcakes
1 1/2 c all purpose flour
1 c sugar
1/2 c cocoa powder
1 tsp instant espresso powder
1 tsp baking powder
1/2 tsp baking soda
1/2 tsp sea salt
1/2 c nondairy yogurt, plain and unsweetened
1 c nondairy milk
1/2 c canola oil
2 tsp vanilla extract
For the Chocolate Frosting
1 c non-hydrogenated shortening
4 tbsp vegan butter, softened
3 c powdered sugar, sifted
1/2 c cocoa powder, sifted
pinch of salt
3 tbsp non-dairy milk
1 tsp vanilla extract
Instructions
Prepare the Batter: Preheat oven to 350 degrees F (175 C) and line a 12-cup cupcake pan with paper liners. In a large bowl, whisk together the flour, sugar, cocoa powder, espresso powder, baking powder, baking soda and sea salt. In a small bowl or glass measuring cup mix together the nondairy yogurt, canola oil, nondairy milk, and vanilla. Pour wet ingredients into dry ingredients and whisk until combined. Do not over-mix.
Bake: Fill each cupcake liner 3/4 of the way full with batter. Bake for 17-20 minutes or until toothpick inserted in the center of a cupcake comes out clean with only a few crumbs clinging to it. Allow to sit in pan for about 5 minutes before transferring to a wire rack to cool.
Frosting: While cupcakes cool, prepare the frosting. Add non-hydrogenated shortening and vegan butter to a large bowl and beat together until well-combined. This can be done in the bowl of a stand mixer or you can use an electric hand mixer. Sift in powdered sugar and cocoa powder. Add salt, non-dairy milk and vanilla to the bowl. Turn electric mixer on again at a low setting to avoid dry ingredients shooting everywhere. You can gradually increase speed of mixer as frosting comes together. Set aside until ready to use.
Assembly: Once cupcakes are completely cool, top each with a generous amount of frosting. This can be done using a piping bag or you can simply spread on a layer with a knife or offset spatula. 
Equipment
Notes
*It is important to remember when mixing vegan batter to not over-mix. As vegan baking is free of eggs, it relies entirely on baking powder/soda for leavening. Over-mixing reduces the carbon dioxide these ingredients produce resulting in less rise and a denser cake.
**Cupcakes will keep for 2-3 days in an airtight container stored at room temperature.
Keywords: vegan chocolate cupcakes, chocolate cupcakes, vegan chocolate buttercream, chocolate buttercream, vegan chocolate dessert
Recipe Card powered by
More Vegan Cupcake Recipes